This is a brief history of the dream of the garden and how it has evolved to the present:
Memory Garden before construction of walkways and installation of door Dec 2012:
 And now in 2017, this is what it looks like – a lot of love and labor went into the dream:
The Memory Garden at Union General Hospital –
Within the walls of Union General Hospital, there has been a Memory Garden growing.
It is a joint venture of the Mountain Healthcare Foundation, Union General Hospital, the Towns-Union Master Gardeners and the Memory Garden Committee who are employees of Union General Hospital.The Memory Garden honors former employees who are no longer with us while giving a place for a few moments of calm reflection in a natural setting.
It is open for all visitors, patients, families, Hospital volunteers and employees during the daylight hours and is located on the second floor by the Laboratory.
For more information, please contact Leslie Daniels at the Mountain Healthcare Foundation at 706-745-21111 or Towns-Union Master Gardeners  please contact:  Dan Greenfield, President – dgreenfi@hotmail.com
Master Gardener Project Chairman: Â Cathy Haist
August 10th picture: Â Garden in all its glory! Â Aug 10th 2015
Chairman Cathy Haist adds these 2015 updates to the beautiful Memory Garden at Union General Hospital:
 Over 150 Daffodils were planted last Fall by employees, MG's and Friends of MG's as a special request from Robbie McGill, RN for Evelyn Jones.
Our first nesting of Bluebirds were spotted in the Bluebird Churchhouse.
Spring 2015 Projects at the Memory Garden:
The Trellis, which was donated by the Union General Hospital Auxiliary, has now been stained. Â Â After soil improvements are done then flowering vines will be added.
The Memory Garden Fountain will be re-started soon after being turned off for the Winter.
Mulching Day is Sat. May 2nd at 8:00 AM. All are welcome
The final addition for 2014 was the addition of "The Recognition Tree" located on the opposite wall from the door out to the Memory Garden and donated by a very generous benefactor:
November 2014 Addition to the Memory Garden – Still growing and looking amazing!
This is the latest addition to the Memory Garden at Union General Hospital.  A donation from the Auxiliary in honor of all their members, past, present and future.  we understand a plaque will be placed on the Trellis in the near future
In the Spring, the Trellis will be stained a cedar brown to match the benches. Â There already is a donation money for specific flowering vines that will be planted then, also.
When a dream turns into reality – October 2014!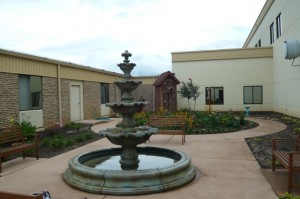 ………………………………………………………………………………………..
Just take a look at early 2014:
And pictures are definitely worth 1,000 words, the garden August 2014:
For more information: Jo Anne Allen and Judy Caines , Co-Presidents