Towns 4H Garden Club Projects – 2017
Towns County 4-H Garden Club – 2017
September 27, 2017
We had 11 (yes eleven) kids today!!  Fourth thru sixth graders.  Any of you know of other MGEV's that might be interested in working with the kids?  I think we may need some more back up/helpers.  We meet the 1st and 3rd Wednesday of each month from 3:00 -4:30PM.
More importantly right now…we are meeting NEXT Wednesday, Oct 4th!!  (Today was a "make up" Wednesday).  We plan to decorate the front garden for Fall/Halloween.  We need a project (s) that will keep 11 kids busy for 1.5 hours!  If you could search around and let me know if you find any ideas before this weekend?? PLEASE??  Andrew is going to approach Home Depot for donations…but we have to tell him what we're going to need.
What a GREAT day!!! THANKS!!!  (And special thanks to my Gary!!)  Judy
February, 2017
First we have to find just the right rocks at Judy Caines' house for our butterfly puddles:
The girls starting their butterfly puddles:
April 26, 2017
Flower Shows and how to prepare entries – proper ways to condition plant material was passed out and discussed. Â Each girl made a vase of flowers to take home. Â They were all asked to participate in the August North Georgia Community Flower Show.
Conditioning plants: Â Conditioning Cut Flowers and Foliag tri fold April 26 2015
Sample entries from the 2015 show: Â  Â  Â  Â  Â Â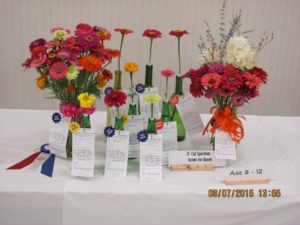 May 2017 – Pollinator Garden Work at TC 4-H
This group of young gardeners are interested in everything they start. Â Here is the newspaper article about their pollinator garden:
Towns County 4-H Garden Club 
June 20117
Towns County 4-H Garden Club pollinator garden at work: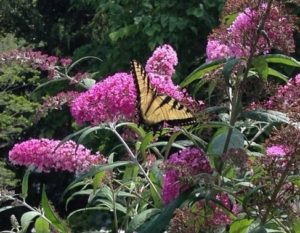 Appalachian Swallowtail Butterfly 
******************************************************************************************************************************
Towns County 4-H Garden Club – 2016
First Meeting for Fall 2016 School Year
We had our first 4H Garden Club meeting of the school year on September  14th. The kids filled the barrels with soil, and mixed in mulch; before  planting herbs. They watered everything, including the asparagus we transplanted when school ended in May.
The girls then painted rocks to be used as markers for the herbs. For their hard work, they were also allowed to paint a few rocks for their personal  use. They have asked if they could please meet twice a month! So, guessing  they are enjoying the experience.
The kids have asked permission to work on the pollinator garden, planned for the front of the Ext Office as well. We have a good group and are excited  about the opportunities to help them learn new things.
At the October 12th meeting, we will be decorating for the grounds for Fall.  Andrew has procured bales of hay and corn stalks. He's anxious for a little  "friendly competition" with the Board of Education decorations in the office  next door. Should be lots of fun.
Submitted by:Â  Â Judy Caines and Jo Anne Allen
March 2016 Meeting
March was a very busy meeting!  Towns-Union Master Gardeners Jo Anne Allen and Judy Caines taught the children how to read and understand the soil test in their garden and the 3 parts of the fertilizer labels, Nitrogen-Phosphorus- Potassium!  They dug up lots of weeds and a few iris bulbs that they plan to sell at the HGC Plant Affair on April 16th, to raise funds.  They sprinkled fertilizer to prepare the soil for planting.  We also tried an art project using potato stamps carved by our 4-H Extension Agent, Billie Harvey. Each child was given white carnations and green food coloring with instructions how to turn their carnation green for St. Patrick's Day.  A fun way to understand the science of "capillary action".
Our  next meeting will be April 11th, when the children will be planning  their "Pizza" garden.    We like to start about 3:30PM.  If you're interested in having your child participate, please contact Billie Harvey at the Extension Office, 706-896-2024; or email: bsharvey@uga.edu.
Towns County 4-H Garden Club – 2015
Judy Caines, Project Chairman provides the following for our enjoyment:
November, 2015:  We had 10 kids show up for 4H yesterday!  I think the pictures tell it all!
You can't tell from the photos … but the scarecrow's eyes were green 4H cloverleaves and the mouth was a rifle!  (The scarecrow is wearing a 4H shotgun t-shirt).  His name if Farmer Joe!
October, 2015:  Here are the pictures from our rock painting project in October.  As you can see…our illustrious Ext. Agent also participated in this event!  His was the 4H rock.